Dennis Waterman is a recurring character in Little Britain. He has been caricatured by David Walliams in the radio and TV comedy series Little Britain , in sketches where he visits his agent Jeremy Rent (played by Matt Lucas) looking for parts. Most of the jokes in these sketches are about Waterman being extremely small making common objects massive in comparison to him, but the real Dennis Waterman is of average height at five foot nine. The caricature is offered but always declines respectable parts because he is not allowed to star in, or "write the theme tune, sing the theme tune" (pronounced as "write da feem toon, sing da feem toon") of, the particular production. This joke is because Waterman sang, and is believed to have written many of the themes for, at least four programmes he has starred in. Waterman has sung the title tunes for Minder, New Tricks, On the Up and Stay Lucky.
Waterman was initially bemused by the caricature. In November 2006, Waterman made a guest appearance in Little Britain Live, alongside the comedy character version of himself. He proclaimed he was angry at the charecterisation of himself, but was forced to admit that he did write and sing theme tunes on multiple programmes.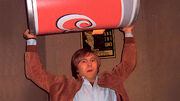 Community content is available under
CC-BY-SA
unless otherwise noted.